New photo collage sizes on aluminium and acrylic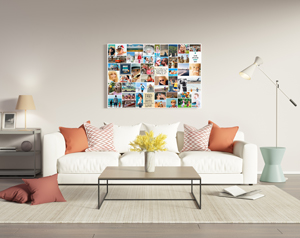 Starting today, Easy Collage is offering more photo collage sizes on aluminium and acrylic.
This means you can now make huge oversize collages or wide panoramic ones!
If you've always wanted to make an XXL collage, then today you're in luck because our aluminium and acrylic collages now come in sizes 80 x 80 and 120 x 80. They're ideal for creating a beautiful family collage to hang above the kitchen table or to make a holiday photo collage to place above the sofa.
Long, narrow walls are also fantastic places to hang rectangular pieces of art. And now you can create a real masterpiece from scratch because our acrylic collages come in panorama sizes 60 x 30, 90 x 30 and 120 x 40. These panorama collages give you plenty of room to include all your favourite family pictures and to create a beautiful photo collage.