New photo collage design online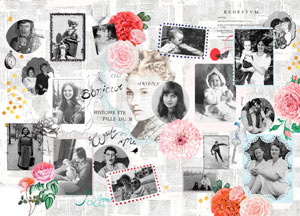 New year - new collage designs! At Easy Collage we're starting the year with a fresh design by Studio Onszelf.
Looking for a collage with a soft, romantic look? Then the new design "Bonjour", with its delicate colours and beautiful flowers, will definitely work for you!
Design duo Astrid and Claudia are no strangers to Easy Collage - they've already designed three other photo collages for us that we love. Their new collage design "Bonjour" is a mix of vintage newspaper prints and beautiful flowers which really pop and catch the eye. This combination creates a wonderfully romantic feel which is perfectly suited to a room decorated in a classic style, a girl's bedroom with dreamy decor or a living room with soft tones.
Want to get started with the new collage design right now? Click here to begin creating your new collage!