New photo collage design: Mosaic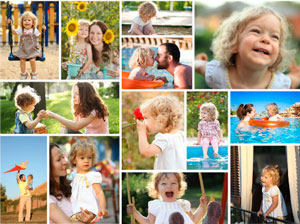 This week, we added a brand new design to our basic collection, the collection that lets you create the layout of your photo collage any way you like it: Mosaic, a real classic.
In other words, thanks to our online collage creator tool, it is now possible to quickly and easily create a complicated mosaic collage.
Our basic designs collection already offered a more orderly version of the mosaic design, which arranged your photos into rows or columns. Our new mosaic design lets you arrange your photos in more random ways for an even more playful feel.
Let our collage creator surprise you. Your mosaic collage will be put together however you like it, and you'll be able to pick any of various arrangements. Creating a mosaic collage was never this easy!
Do you want to create your own mosaic collage? Get started with the collage creator right away!