New option: collage with more than one central photo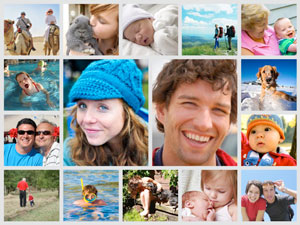 With EasyCollage's basic collection, It was already possible to make a collage with one large photo in the centre.
But now, as requested, you can also choose to have the central photo in this basic collage split up into multiple photos. This way you can show more than one photo on the centre stage of your collage.
For example, you can use this to put two portrait photos of a couple in the centre of your collage. It's also fun for a collage of everyone in your family, or photos taken at different ages, or 'before' and 'after' photos.
Making this collage is easy. Start up the collage creator and select 'Basic - grid with large photo'. Then, in the window where you set up the frames, you can use the option 'layout central photo' to customise the central photo space.
Want to make a collage right away? Start up the collage creator.