New Easy Collage Designer: AnnaLouis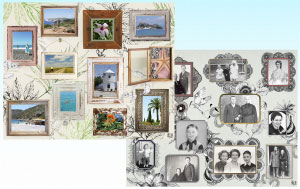 So you've constantly got an excellent selection of designs to choose from when creating your collages with EasyCollage, we're always on the lookout for fabulous designers who can produce stunning collage designs with flair.
Our newest designer - AnnaLouis - fits the bill perfectly and has the magnificent talent of creating truly unique collage designs which make your photos look as awesome.
Since 2004, AnnaLouis has produced beautiful designs for a huge number of magazines, publishers and advertising companies and we're thrilled to have her on board. She has a real one-of-a-kind style in which she combines strong and powerful artistic techniques with more subtle and feminine aspects, creating well-rounded pieces which not only look fantastic but really invite you in to carefully study them. Almost all her incredible works include some piece of nature within them, be it something as dramatic as a deer or something as simple as a flower petal, making her definitely someone to watch for nature lovers.
AnnaLouis has already begun designing collages for EasyCollage - the classic Arabica design with its hummingbird and retro flowers, plus the vintage Leaves design with its textures leaf background and assortment of beautiful photo frames have both been created by the new designer. We love what she has created so far and can't wait to see what she designs next!
To take a look at AnnaLouis' designs, visit her EasyCollage designs page and start making your own personalised collage today. Don't forget that all collages come with free shipping!