New collage design style: Panorama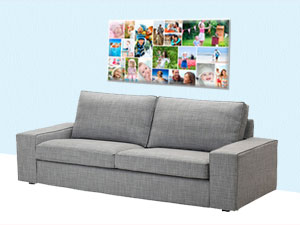 You asked for it and we answered. We've taken our already broad range of Easy Collage designs and extended it even further by introducing a brand new collage design style - panorama.
This new type of design means you can now create rectangular landscape collages which are the perfect size and shape to set above your bed or sofa.
Not only will a panorama collage work wonderfully when placed above a piece of furniture like this, but thanks to its length-to-width ratio, it will help make the room feel larger and provide a fantastic focal point.
As of today, all basic collage designs (the ones you personally design with just your own images) are now available to create and order in panorama style in the following sizes: 60 cm x 20 cm, 90 cm x 30 cm, 80 cm x 40 cm, 120 cm x 40 cm, 120 cm x 60 cm and 150 cm x 50 cm.
Can't wait to get started? Open up the collagemaker and create your own panorama collage today.