New basic collage: Playful grid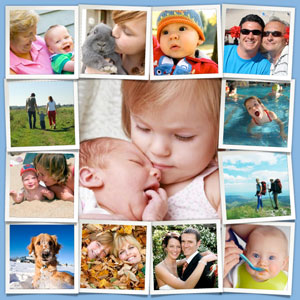 Besides collage designs with special imagery, we also offer basic collage layouts that let you customise your collage to your liking.
We have now added a new design to the basic collection: the playful grid. This design lets you make a collage that makes your pictures look like old-fashioned photos (with a border) that have been pasted together.
Our collection of basic designs already offered a regular grid layout (an overview of all your photos arranged in rows and columns) and a grid with one larger photo in the centre. What's new is that now you can use one of the same layouts and give it a playful touch: with white borders and tilted just a little bit, just like those old photos from the good old days.
Tip: use the playful grid design with the 'Vintage' visual effect for a collage that looks like it's really made of old photos. It's pretty and stylish!
Are you curious yet? Have a look at all of our basic designs.