New: Collages on aluminium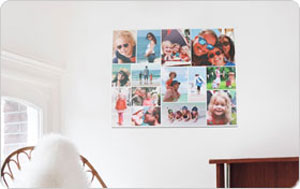 We've added a brand new product to our collage range again!
As well as poster, canvas and acrylic collages, you can now also create stunning collages on aluminium, also known as Dibond.
This type of collage is ideal if you're looking for a superb eye-catching piece for one of the lighter rooms in your home. When you order an aluminium collage, your photos are mounted onto a solid piece of aluminium. Next, a razor-thin UV-resistant film is placed on top to protect the collage from fading and to give it a matt finish, that makes your photos look striking in all lights. At Easy Collage, we use top quality printing materials and a 12-colour spectrum to create all our collages - including our new aluminium collages - which results in an incredibly realistic finish for your photos.
Just like our acrylic collages, each aluminium collage features a concealed suspension system which allows you to hang it on the wall as soon as it arrives on your doorstep.
Aluminium collages start from just £ 33.95 and are available in sizes 30cm x 30cm up to 100cm x 70cm.