New addition: La Scarlatte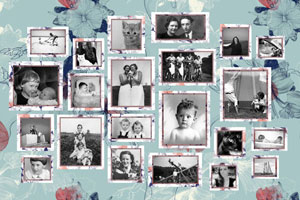 Easy Collage is pleased to announce a new designer on our team!
Designer La Scarlatte has created three nature-inspired collages for us, designed in soft colors.
With a selection of over 50 collage designs available on Easy Collage, you've got oodles of flexibility and choice at your fingertips which you can use to create both simple and exuberant collages alike. The three new designs of Dutch designer La Scarlatte have a special combination of both artistic aspects, with each design focusing on flowers and soft colors.
La Scarlatte finds inspiration for her creative work mainly from plants and animals. But if she's not getting her inspiration from there, she 'll seek it by cycling along the canals in Amsterdam or spending the day at the zoo or the Hortus Botanicus botanical gardens, drawing pad at the ready. In addition to the designs she's created for Easy Collage, La Scarlatte also produces product illustrations, patterns and book illustrations - all in her own distinctive style.
The elegant collage designs created by La Scarlatte form the ideal background for nature photo collages, children's photo collections and memory-sparking canvases with black and white photos of the good times. If you want to get started, you can head to the collage maker right now and customise one of her designs with your own photos. You can then print out your collage on poster and canvas.
Want to find out more about La Scarlatte? Click here for an overview of her collage designs.