Easy Collage Launches in Germany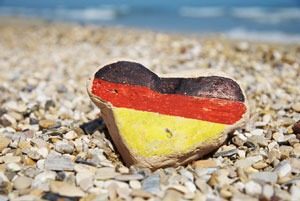 We have recently launched a Germany-based edition of our website, allowing people from all across Germany to create their very own customised photo collages and have them delivered straight to their homes.
Before the recent Germany website launch, the Easy Collage services were only available in the Netherlands and the UK, but it wasn't long before we knew we had to expand. Personalised pieces of artwork that you can create yourself proved to be extremely popular throughout the Netherlands and the UK. We had a great deal of interest from people in Germany, so we decided that would be the best place to launch next.
The Germany-based edition of the Easy Collage website is the same as the Dutch and UK versions and boasts the same fantastic features, including simple-to-use collage creator, loads of basic and special designs to choose from and canvas or poster printing choices.
If you're based in Germany and love the idea of having your very own customised piece of artwork in your home, head on over to www.easycollage.de and get started today.