Collage design for Instagram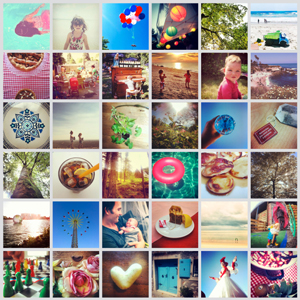 Are you crazy about the photo app Instagram too? Have you Instagrammed all of your favourite subjects several times already? Then maybe you should turn your best Instagram shots into a collage!
And from now on, that will be really easy to do, because we have a new basic collage design that's made just for those familiar square photos: 'Basic - Instagram'.
Tell me if this sounds familiar. You go wild using Instagram and you return home with a phone full of lovely photos. You've already shared them on Facebook and Twitter, of course. What to do next? You still want to relive the good times that Instagram immortalised so wonderfully for you, too. EasyCollage now allows you to quickly and easily turn your best Instagram photos into a collage poster or canvas. And it's up to you how many photos there will be on it, allowing for up to 144 photos. The Instagram collage is available in sizes ranging from 30 x 30 cm (12 x 12?) to 100 x 100 cm (3'3″ x 3'3″).
More than enough room to keep shooting some more pictures with Instagram this summer, and then put yourself, your friends and your relatives up on the wall in those summery outfits. Or to pick the best cocktails you've had, or the nicest beaches you've been to, or the covers of every book you've read... Whatever you like!
Of course it was already possible to make a collage using your Instagram photos, by using one of our basic collage designs to make a suitable layout yourself, but now we've made it extra easy for all you Instagram lovers. If you use our new Instagram collage design, you won't have to worry about image size or quality. The collage template is made in such a way that this will always be okay. Isn't that convenient?
Want to make a collage with your Instagram photos right away?