Buy One Get One Half Price on Every Photo Collage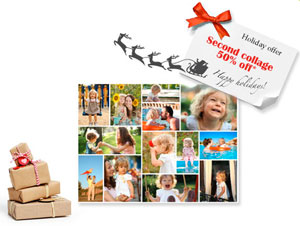 To make your Christmas shopping just that little bit easier this year, we're offering an incredible discount on photo collages.
For every collage you purchase at full price, you'll get a second one for half price.
Whether you're shopping for a friend, family member or work colleague, our photo collages make wonderful Christmas presents. The easy-to-use Collage Creator allows you to make stunning collages which can be tailored to suit each and every individual. Choose a layout which best fits the person you're buying for, customise it using their favourite photos, arrange and edit them to make them look their best and you're done!
The superb 50% discount on your second collage applies to all types of prints and sizes - canvas and poster alike - so you can design your creations to perfectly suit the room and space they're intended for.
Not only do our photo collages make great gifts, but thanks to this fantastic buy one get one half price offer, they're also a very affordable option for the holiday season. With this discount you can treat two family members to personalised photo collages this year or instead you can create one for yourself and make another for a friend - it's totally up to you.
Don't forget that the buy one get one half price photo collage offer is for a limited time only. If you want to take advantage of this superb deal you'll need to create your photo collages and order them before December 24th.
So what are you waiting for? Head on over to the Collage Creator now and start creating your first unique collage to qualify for a 50% discount on the second.