Brand New EasyCollage Design: Mountains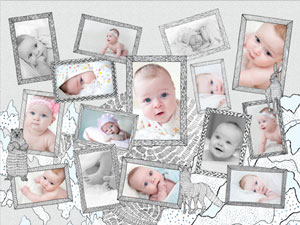 As an addition to their first collage design for EasyCollage, End of Summer, we're excited to announce that we're introducing a second collage design created by Studio Lilesadi entitled Mountains.
Taking advantage of the plain white, grey, black and blue colours of the background this design really makes the added photos jump out of the collage and take centre stage.
Their first collage design for EasyCollage (End of Summer) features a quiet, grey background which makes the highlighted white, pink, black and yellow sections of the design really pop out of the collage without taking attention away from the pictures. Each of the photos in the End of Summer design are framed by quirky hand-drawn frames around which drawings of nature-inspired things, such as toadstools, birds, butterflies and flowers add touching embellishes.
Not wanting to stray away from what works and proves popular, Studio Lilesadi stayed with a similar theme for their Mountains collage design. The frames which surround each photo are slightly more artistic and sophisticated in their new collage design, with winter- and mountain-associated animals, such as a bear, fox and hare, also featuring in the design.
Each of the Studio Lilesadi designs work harmoniously together, epitomising the summer and winter seasons seemingly effortlessly in a modern, yet nostalgic way. If you've previously designed a collage using the End of Summer design to feature all your summertime photos, a second collage using the Mountains collage design would be the ideal accompaniment, both contrasting in terms of season and complementing in terms of style simultaneously.
Head on over to the EasyCollage Collage Creator right now to check out the new Lilesadi: Mountains design and begin creating your very own personalised collage today. Don't forget that all collages delivered to the UK, Netherlands, Belgium, Germany and France come with free shipping!