And another gorgeous new photo collage!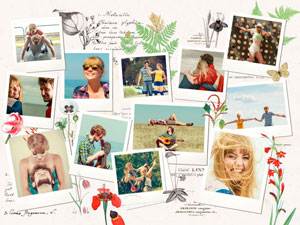 Studio Onszelf has done it again and created yet another beautiful design for us!
Following on from the romantic design "Bonjour" which was released a short while ago, we're excited to announce that - for the second time in 2016 - Astrid and Claudia have designed another stunning photo collage template for Easy Collage.
Are you looking for a spring-inspired photo collage with a subtle touch of vintage? Then our latest design "Flora" is just right for you.
Although spring might seem forever away, in just a few weeks' time the first tulips and crocuses of the season will begin to bloom. If you want to get ahead of spring and have the bright and crisp season already in your house by the time it arrives, use "Flora" to develop a gorgeous photo collage with a fresh touch. Not only does this photo collage work for spring photos, but it's perfect for summer pictures, too!
Studio Onszelf has already built up a strong portfolio of gorgeous Easy Collage designs - this will be their eighth design so far. If you're a big fan of Studio Onszelf's work, check out Onszelf.com. On this site you'll find unique posters, tablecloths, mugs and loads more - all designed by the incredible duo Astrid and Claudia.
Want to begin creating your own photo collage with the new Flora design? Open up the collage maker and get started right now!