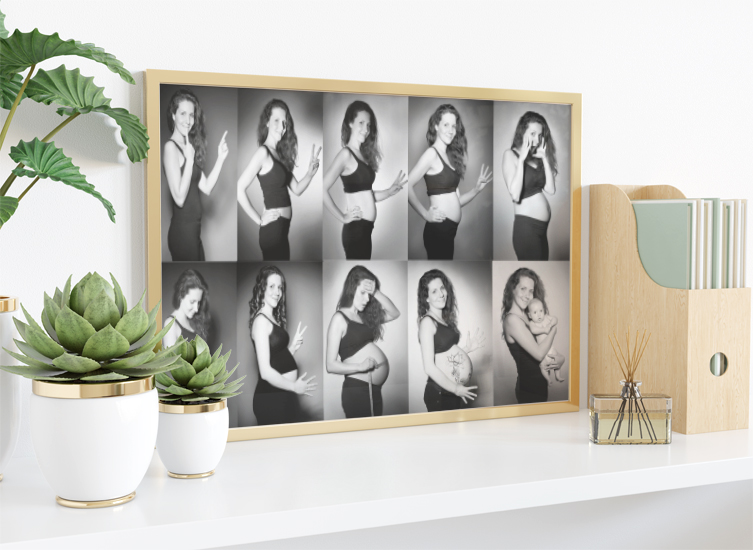 Pregnancy photo collage
Pregnancy is a special time in your life.
And a beautiful photo collage is a fantastic way of remembering it!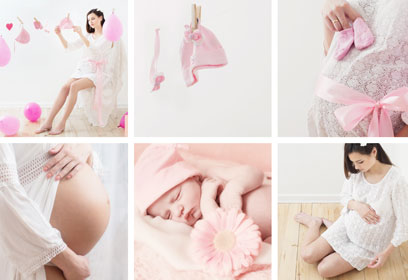 Having a child is one of the most extraordinary things you'll ever experience. Many parents-to-be record the stages of pregnancy by taking pictures themselves or having a professional photographer shoot them. This leaves you with a collection of wonderful photos perfect for transforming into a collage.
One example of a pregnancy photo collage which works especially well is to use monthly photos of the mother-to-be, showing how her belly is growing in each one.
How to make a pregnancy photo collage
Start by choosing your most beautiful pregnancy photos. Try to select shots that are similar colours and not overly dark - this way they'll look fantastic when they come together in a collage. If you had all your pregnancy photos taken in the same spot, that's even better. Professional pictures taken as part of a photoshoot are just as suitable, too.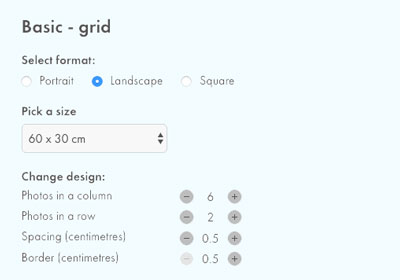 In the collage maker, choose the design that appeals to you most or one that fits well with the style of your photos. If you go for a growth collage, pick a design that has room for ten shots. This way you can put all your belly pictures together and end the collage with a photo of you and your child.
With the text option, you can also add the number of months you've been pregnant, if you like. When all your pictures are in the right places, adjust the background colour if you want to then click 'Save' or 'Order'.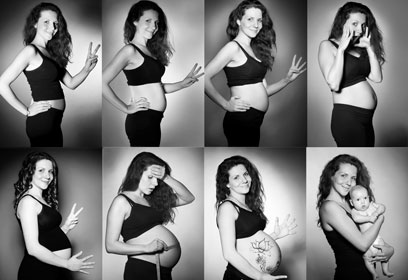 Extra tips
One way to ensure that all the photos in your collage work well together is to use milestone cards. Milestone cards are specially-made cards you can use to show how many months you've been pregnant, how big the baby is at that time, etc. Don't worry if you didn't take photos with milestone cards during your pregnancy. Simply use our collage maker to add how many months you've been pregnant to each photo with the text option instead.
What our customers say about us
Stumbled across this site after a Google search and delighted I did. Very easy to create a collage, even for me with restricted IT capabilities. The poster came very promptly and exceeded my expectation as to how good it looked. Great service, great product. Read all reviews kiyoh.com

EasyCollage

9.9

9.9

/

10

based on

203

reviews

Lovely collage. They had very easy to use and flexible software to create the collage, the best I have found on any website. Delivery was really quick and the company were extremely helpful with getting it out quickly for me. Thank you for a beautiful keep sake xx Read all reviews kiyoh.com

EasyCollage

9.9

9.9

/

10

based on

203

reviews

Amazing! Absolutely loved it, it was even better than I had imagined! We are using it at our wedding next week and the team pulled out all the stops, to get this printed and delivered to me in super quick time! Highly recommend Easy Collage! Read all reviews kiyoh.com

EasyCollage

9.9

9.9

/

10

based on

203

reviews

I had some wonderful artistic pictures that I wanted to put together and the collage was the perfect option and EasyCollage provided great and flexable templates to make it happen. Prompt delivery of a high quality product which I am really pleased with. Read all reviews kiyoh.com

EasyCollage

9.9

9.9

/

10

based on

203

reviews

FANTASTIC PRODUCT, I have 8 of these now and have also bought and given as gifts. The quality of the photos on th canvas is really good, even in the small pictures. The best place to make your collages with the most flexibility. Read all reviews kiyoh.com

EasyCollage

9.9

9.9

/

10

based on

203

reviews