New: photo collage with quotes and inspirational texts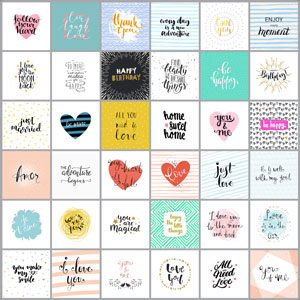 Quotes and inspirational texts: a great way to make your photo collage even more personal. There are loads of beautiful quote images available online that you can find and turn into an amazing photo collage.
At EasyCollage, we're always trying to help make things quicker and easier for you. Which is why you can now choose from a fantastic selection of wonderful quotes without ever leaving the collage maker!
There are millions of beautiful pictures with quotes on the internet. But when you're making a photo collage, you could spend hours and hours searching for the perfect quote that fits in with the rest of your collage. To help save you time and hassle, you can now choose loving quotes and texts within the collage maker to make your photo collage more personal than ever.
Here are some great ideas to get you started: if you're making a collage for your lover, add a heart and the word 'Love' or maybe the quote 'I love you to the moon and back'. If you're making a family collage, you could add a happy quote like 'Enjoy the little things' or 'Home sweet home' for an extra special touch. You can also add more common phrases and messages, like 'Thank you' or 'Happy birthday!' within the collage maker.
Adding a message is easy:
1. Choose your favourite collage design.
2. Customise the design and click 'Get started'.
3. Click a photo level and choose the 'Quotes' tab.
4. On this page you can browse quotes, wishes and messages.
5. Click on a text box to add it to your collage.
Want to get started with your own photo collage? Go to the collage maker right now and begin!