Create a Photo Collage with Your Instagram Photos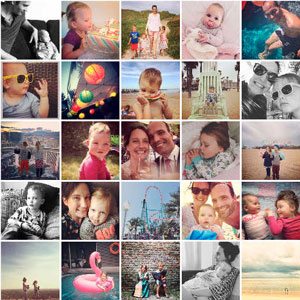 Do you find yourself always posting your most beautiful photos on Instagram, but yearn to hang them on the wall?
Well now with just a few clicks you can easily showcase your best Instagram pictures in a beautiful photo collage!
Instagram is one of the best ways to share your photos with the world and the images you post online are perfect for beautiful collages. That's why we've made it super easy for you to turn your favourite Instagram posts into a one-of-a-kind photo collage. All it takes is five simple steps:
1. Open the collage maker and choose a design.
2. Customise your chosen design and click 'Get Started.
3. Click on the box where you want to place a photo and select 'Instagram' on the next screen.
4. Click on the 'Login to Instagram' button, fill out your details and all your Instagram photos will appear on the screen.
5. Choose the pictures you want to use and place them in the boxes to create your collage.
Want to get started with your first Instagram photo collage? Go to the collage maker right now and begin!